Moving Home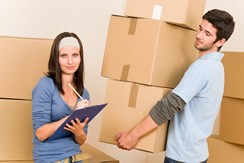 Moving into a new home is associated with a bunch of duties such as collecting all items and sorting by type and specificity. We make it possible to enjoy moving the house without getting up of your comfortable seating and will forget the nervousness the small details could cause such as packaging of huge plasma for example. Our professional movers will arrive at your appointment and bring everything you need if you decide to take advantage of this service only. They will figure out every detail related to the fragility, size and weight.
Preview of things and their number is recommended, as our relocation company will be able to provide the required number of experience specialists to do the move in the fastest way. The safety of your expensive and valuable items is guaranteed as our professional movers in London, have the necessary experience and skills. They will protect your furniture from scratching and violation of the integrity. No matter the distance and obstacles that they must pass our experienced movers will move everything without unnecessary trouble.
Our specially equipped vans will ensure the safe transfer of the property and you will complete the  moving in London in the fastest way. Do not think about moving into a new home as of annoying heavy objects haul challenge, and look at it as a way to achieve a dreamy atmosphere. Use the home moving service and be sure that the dinner will be served in your new house, not  in a pile of items waiting to be packed.