Window Cleaning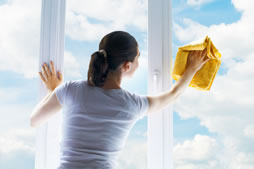 Window cleaning is always an annoying duty that is usually combined with the fear of high. The weekly program for sanitary cleaning of your home or office includes also rubbing the glass surfaces, which takes more time than the overall cleaning of the house. In case you have already decided not to waste time and frustration by cleaning the windows, then contact our specialized cleaning company and trust of our experienced professionals. They will use the best products to remove the stains and dirt on the fastest and most efficient way. The lack of harmful chemicals in the cleaning sprays will save you the tedious cough and allergic reactions and will ensure calmness for you and your family. Luster, perfect cleanness and mirror effect – this will be the result of the window cleaning in your home or office performed by our professional cleaners in London.
Now, you will no longer be in constant stress when polishing the glass surfaces. The fear of high and the panicked state at hanging from the rail will remain in the past. Now you will just sit quietly on your couch while watching the professional and quality service of window cleaning, which our specialized cleaning company in London will provide you.
Did you know that the majority of the vision problems are dictated by the lack of light in the rooms where you spend most of your time. The insufficient sunlight on its part is blocked by the poorly washed windows. When there is dirt on the glass, the entry of light in the room is almost impossible. That is why you can trust the professional window cleaners in London that will bring back the light in your home, thanks to the perfect cleaning of that part of the house. Enjoy the spaciousness that the natural sunlight carry and live in perfectly clean and healthy home environment.